Home Loans for Business Use
Using Residential Property as Security for a Business Loan
Studio Apartment Financing 101:
What You Need to Know Before You Apply for a Loan.
Is it possible to Use a Residential Property as Security For a Business Loan?
Yes, it is possible to use a residential property as security for a business loan. However, it's important to note that not all lenders offer this loan option, and those that do may not have the appropriate lending products, systems, and processes in place for self-employed applicants who wish to use their residential or investment properties for business purposes.
While some lenders may allow you to use your residential property as security for a business loan, it's important to choose a lender who specialises in this type of lending and has experience working with self-employed borrowers. This will ensure that you receive a competitive interest rate and that the lending process is smooth and streamlined.
Some lenders may also require additional documentation, such as a business plan, financial statements, and cash flow projections, to ensure that you have the capacity to repay the loan. Therefore, it's essential to have a solid business plan and financial strategy in place before applying for a business loan that uses your residential property as security.
Is it Possible to Obtain a Business Loan at The Same Interest Rates as a Home Loan?
It is possible to get a business loan at the same interest rate as a home loan, regardless of the borrowing amount or loan structure, whether it's under personal names or company names. The residential rates remain unchanged, and there is no extra rate loading on account of business use.
Many lenders offer competitive interest rates for business loans, and it's always a good idea to shop around and compare the different loan products available. While interest rates can vary depending on the type of business loan, the lender, and the borrower's creditworthiness, it's definitely possible to get a business loan with rates as low as those offered for home loans since the loan is secured by a residential security.
So, if you're planning to restructure or expand your business and need financing, don't assume that business loans will have higher interest rates than home loans. With the right guidance, you can secure a business loan at residential rates and take your business to the next level.
How Much Can I Borrow for a Business Loan Against my Residential or Investment Property?
The amount you can borrow for a business loan depends on the value of your residential or investment security property. Typically, lenders allow you to borrow up to 80% of the property's value, which means if your property is worth $500,000, you can borrow up to $400,000. However, some lenders may allow you to borrow up to 90% of the property's value, but this will incur lenders mortgage insurance as you have exceeded the 80% value with no lenders mortgage insurance threshold.
If you're a self-employed applicant, lenders will require you to provide the last two years of personal and business tax returns submitted to the Australian Tax Office (ATO) to qualify for this maximum borrowing amount. However, a few lenders may only require one year or the previous year's tax returns. This requirement is to ensure that you have a steady income source to repay the loan.
If you don't have two years of ATO-submitted tax returns, the lender may use your business financial management accounts and the last 12 months of Business Activity Statements (BAS) to verify your business's income. However, this option will limit your borrowing against the property's value.
It's essential to have all the necessary documentation and all personal and business ATO tax paid to date ready when applying for a business loan against your residential property. This will help you qualify for a higher borrowing amount and improve your chances of getting approved for the loan.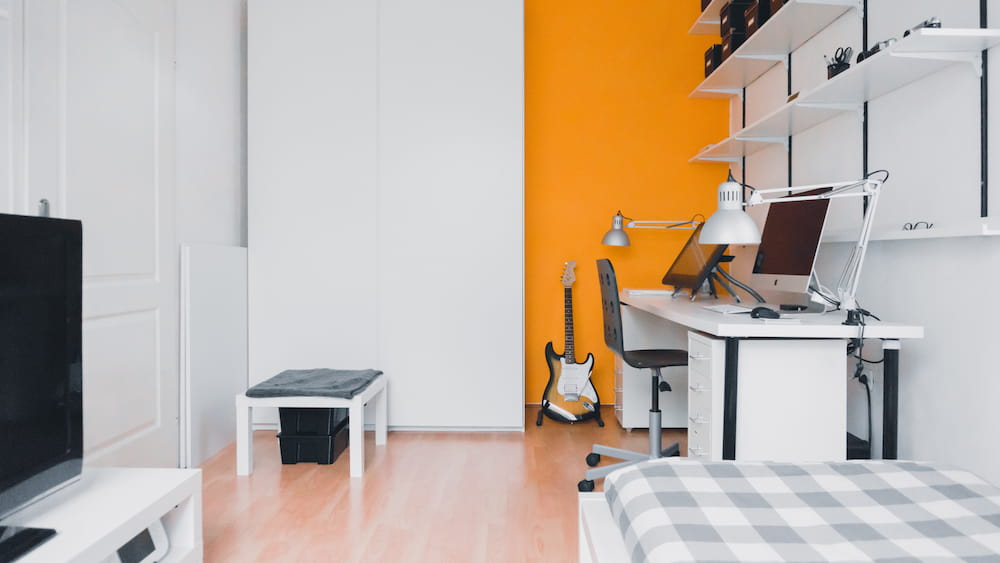 A Golden Rule!
How to Strategically Invest in Studio Apartments for Cash-Flow Returns.
What Are The Borrowing Options For Studio Apartments?
Studio apartments are a popular choice for first-time homebuyers, investors, or those looking for a holiday retreat. However, borrowing for these properties can be a challenge, as not all lenders offer financing for studio apartments.
To qualify for a loan, lenders typically require that the studio apartment have a kitchenette and laundry facilities that are not shared with other units in the building. It should also be self-contained with a dividing wall between the living area and bedroom. The loan amount is based on the size of the studio, with lenders excluding balconies and car spaces from the calculation.
Studio apartments can range in size from 15 square meters to 50 square meters, with 50 square meters or more being the ideal size for borrowers. The larger the living area, the more lenders are likely to offer financing options. For example, for apartments ranging from 18 to 40 square meters, borrowers can expect lending from 60% to 80% against the property value, with a limited number of lenders available. For apartments ranging from 45 to 50 square meters, more lenders may offer financing options, with lending ranging from 80% to 95% against the value.
It's important to note that mortgage insurers may not approve loans for high-density apartment complexes with more than 35 apartments. In such cases, lenders must rely on their own credit policies to approve a loan amount of 80% borrowing against the property value.
When considering borrowing for a studio apartment, it's important to find a high-quality property in a desirable and high-demand location. For such properties, the minimum living area may be 40 square meters, which would allow borrowers to use a smaller deposit on the purchase – as low as 5% for owner-occupied properties, or 10% to 20% for investors.
Apartment Size Guide for Borrowing:
18 to 40 sqm size = Lending from 60% to 80% against the value. ~ (Minimal Lender choice)
40 to 45 sqm size = Lending from 80% to 95% against the value ~ (Several More Lenders)
45 to 50 sqm size = Lending from 80% to 95% against the value ~ (More Lenders)
50 sqm & above = Lending from 80% to 95% ~ (Many Lenders available at 50sqm size apartments).
Can I Borrow 100% for a Studio Apartment?
It is possible to borrow 100% for a Studio Apartment, but there are certain factors to consider. For first-time buyers, a deposit of 5% to 10% is still required. However, there are a couple of options available for investors who have additional security to offer.
One option is to cross-securitise two properties to purchase the Studio Apartment. This means that the loan may be structured at 100% of the apartment or unit's value with equity drawn from the other property. This method may be suitable for those who have equity in another home or investment property.
Another option is to consider a Guarantor Loan, where a family member acts as a guarantor for the loan. The guarantor can use the equity in their own home or investment property as security for the loan. This type of loan may be set up as a limited guarantee loan for the deposit required on the available equity.
It's worth noting that lenders prefer cross-securitisation or guarantor loans as the overall exposure for the lender is minimised. With these loan structures, it is possible to have a 100% loan on the Studio Apartment or Unit.
Can I Buy a Studio Apartment on a Low Doc Loan?
Low Doc or Low Documentation loans are restricted to 40 sqm and above, unit or apartment size with a borrowing capacity of 60% to 70% loan amount to the value of the property or security. For LoDoc loans, the size of the apartment, and borrowing capacity, must meet a lender's credit policy.
Other important points to consider when applying for a Low Doc Loan for a Studio Apartment include:
Interest rates for Low Doc Loans may be higher than standard home loans.
Low Doc Loans may also have additional fees and charges, such as Lender's Mortgage Insurance, which can add to the overall cost of the loan.
Some lenders may also require a larger deposit for a Low Doc Loan compared to a standard home loan.
It's important to note, before entering into a purchase contract of sale, it is important to seek the guidance of a Credit Adviser/Mortgage Broker or contact us at Neomoney. This will help you find a lender that fits your requirements and ensure that you do not face any obstacles during the purchase process.
What Type of Apartments do Lenders Not Consider For Loans?
When it comes to lending for apartments, lenders and mortgage insurers have specific criteria and requirements that they look for to minimize their risk exposure. Some apartment types may not be eligible for a loan.
We've listed below the types of apartments that lenders may not consider for lending:
Boarding house or hostel style units.
Company share title (VIC).
Company title.
Crown land (excluding the ACT).
Leasehold properties (excluding Crown Land in the ACT).
Limited title (properties with any defects).
Properties subject to "mines subsidence".
Properties subject to the Western Lands Act.
Properties with "lease of life" covenants on title.
Purple title (WA), or Moiety title (SA).
Strata title home units with a living area of less than 40 sqm.
Units under a "time share" arrangement.
Units with serviced apartment agreements.
Serviced units on a lender's unacceptable security register.
It's essential to keep in mind that different lenders may have different criteria, and some may be more flexible than others. Consulting a mortgage broker can be beneficial in finding a lender that suits your requirements.
What Should I Consider When Looking For a Studio Apartment to Purchase?
Studio apartments are a popular investment option due to their potential for positive gearing, but it's important to keep in mind certain factors when looking for the right property.
Here are some key points to consider:
Loan-to-value ratio: Lenders tend to lend less on studio apartments, with some only offering a 60% loan on the value of the property. Keep this in mind when budgeting for your purchase.
Minimum size requirements: Mortgage insurers and lenders may not lend on properties that are less than 50 sqm, with a minimum living area of 40 sqm internally (excluding balconies and car space). Be sure to check these requirements before making an offer on a property.
Additional costs and levies: Studio apartments often come with onsite amenities, such as a gym or pool, which can add to the cost of owning the property. Be sure to factor in any additional fees or levies when budgeting for your purchase.
Location: Studio apartments can be slow to sell outside of CBD areas. Consider the location carefully before making an offer, and think about the potential resale value of the property.
Unacceptable Security Register: It is important to check whether the Studio Apartment you are considering is listed on the lender's or mortgage insurer's Unacceptable Security Register, which means that the apartment may not be accepted as security by any lender or mortgage insurer. In case the security is accepted, the Loan-to-Value Ratio (LVR) may be limited to 50% to 60%. To determine whether the property is listed on the Unacceptable Security Register, you can consult with your Credit Adviser/Mortgage Broker or reach out to us for assistance.
I'm Ready!
Are you ready to take the next step towards your dream home? Our team of mortgage specialists is here to help you find the perfect loan product tailored to your unique needs. Whether you're seeking credit advice or simply looking for more information, we're here to answer any questions you may have.
To get started, just click on the enquiry button below and we'll be in touch with you shortly.
Let's make your homeownership dreams a reality!
ENQUIRE NOW