Renovation Financing Options for Homeowners
Lenders look favourably on homeowners who wish to renovate.
How Can You Access the Equity in Your Property With a Renovation Loan?
Accessing the equity in your property with a renovation loan can be a great way to finance your home renovation project. However, it's important to make sure that you will recoup the planned investable amount in the renovation.
To determine how much to invest in your renovation, you can start by researching current property prices in your neighbouring area. This will give you an indication of how much you should plan to invest. If you are uncertain about neighbouring property prices, you can do the research at property websites, or contact a local real estate agent or an architect who will be able to help you estimate how much to spend and what your returns may achieve.
Working with an architect can be particularly helpful in maximising the potential of your renovation. An architect can work on the assets your house currently has, such as re-organising your floor space to provide more living area and less dividing walls. They can also help you utilise natural light and heat sources to achieve a more eco-efficient designed property.
Accessing the equity in your home will depend on the valuation of your property less the existing loan amount to arrive at the available loan to value equity. Once you have determined the available equity, you have a few options to access it. You may choose to increase the same loan, set up an additional loan just for the renovation costs, or even refinance the whole facility to suit your requirements and lifestyle.
It's important to work closely with your broker, to le them help you navigate the complex process of accessing equity in your property with a renovation loan. By carefully considering your financial needs and goals, they can help you achieve the best possible outcome for your renovation project.
Non-Structural vs. Structural Renovations: How They Affect Your Loan Options
A renovation loan is a type of loan that allows you to borrow money to renovate or improve your property. Some lenders view a renovation loan as either a construction loan or a loan increase, depending on the scope of the home renovation project.
If you are undertaking major renovation works to the property, such as structural changes, you may need local council approved plans. In this case, the lender will typically require a construction-style loan. This will allow them to determine the current value of the property and an 'On Completion Valuation' of the property for when the renovations are finished.
For non-structural works, the lender may only request an On Completion Valuation. However, it's important to keep in mind that the non-structural renovations completed must not exceed the current property price. If the costs do, and the lender requests a valuation, a valuer may only value the property at market conditions, regardless of all the additional costs of the renovations and the renovation loan be declined because the loan exceeds the Loan to Value Ratio (LVR) of the property.
It's important to consider the specifics of each renovation project to determine the best loan option for your renovation loan requirement.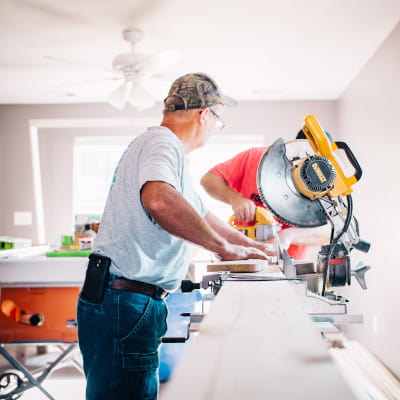 A Golden Rule!
Do not spend more on your property renovation, than the value of the best house on your street.
Are Lenders Supportive of Homeowners Who Want to Add Value to Their Home?
Many lenders are supportive of homeowners who want to add value to their property. This is because adding value to your home can increase the property's worth and, in turn, provide additional equity that can be used as collateral for loans.
Younger buyers, in particular, may be interested in purchasing smaller, more affordable homes that can be renovated and improved over time. These buyers are often more flexible and open to tackling DIY projects to improve their property. Lenders may view this positively, as it shows the homeowner's commitment to investing in their property.
While younger buyers may have less money to spend than older couples and families, investing in their property can provide long-term benefits. Lenders may look favourably on these types of homeowners and may offer more favourable loan terms and rates to support their renovation projects.
You may wish to explore your renovation options and consider how they can add value to your property. By doing so, you can potentially increase the property's worth and build equity, which can provide a range of financial benefits for you in the future. It's important to work with a reputable mortgage lender who understands your renovation goals and can provide the necessary support and guidance to help you achieve them.
Should You Renovate Your Property To Sell It?
If you are planning to sell your property in the near future, renovating it can be a good strategy to increase your resale value. However, it's important to consider the tastes of potential buyers when choosing which renovations to undertake.
Some of the most popular renovations that are likely to increase your resale value include updating your kitchen, adding an extra bedroom or study, or creating an entertainment area such as decking or landscaping. These types of renovations are often seen as adding value to the property and can attract more buyers, resulting in a higher sale price.
It's important to keep in mind that there is little use in spending money on renovations if your property is structurally unsound. Even if you make cosmetic improvements, if the property has underlying structural issues, you won't get a return on your investment. It's important to address any major structural issues before undertaking any cosmetic renovations.
Ultimately, the decision to renovate your property before selling it should be based on a careful consideration of your specific financial circumstances, budget, and long term goals.
I'm Ready!
Are you ready to take the next step towards your dream home? Our team of mortgage specialists is here to help you find the perfect loan product tailored to your unique needs. Whether you're seeking credit advice or simply looking for more information, we're here to answer any questions you may have.
To get started, just click on the enquiry button below and we'll be in touch with you shortly.
Let's make your homeownership dreams a reality!
ENQUIRE NOW